Lucknow Literary Festival
The Lucknow Literary Festival will take place on 23rd and 24th March, 2013.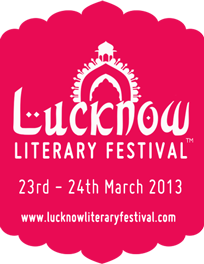 The first ever Lucknow Literature Festival is an endeavour of the LUCKNOW Society. Lucknow is the land of Munshi Premchand, Yashpal, Amrit Lal Nagar, Mirza Hadi Ruswa, Asrar-ul-Haq Majaz, Mir Anees, Abdul Halim Sharar, Brij Narain Chakbast along with Qurratulain Hyder and Attia Hosain who gave us masterpieces and made epic contributions to Literature.
Even today Contemporary authors like Javed Akhtar carry on this legacy, and consciously try to challenge the reader with innovative writing. Authors like Veena Talwar Oldenburg, Amaresh Mishra Neelesh Mishra and Prasoon Joshi have kept the flame of the written word burning bright.
Despite the presence of such literary greats, Lucknow has not had a literary summit for a long time, even though the city has had a tradition of kavi sammelans and Nashists. The Literary festival will once again invoke the creative spirit of the city and bring together the scholars from all over the country.
The festival will witness a diverse spectrum of novelists, playwrights, poets, screenwriters, journalists, lyricists and bloggers which will usher in the revival of the city's literary culture.
The event hopes to further boost the magnetic pull of the city's rich architectural heritage. The world renowned zaiqa of Awadh is also the quintessential ingredient in the culture cauldron of the city. For us, it is an opportunity to bring in the traveller as well as the "literary tourist" to Lucknow.
Books will be launched, contemporary and historical issues will be discussed and debated threadbare. Through reading sessions the average reader will once again discover the joys of Books. There will also be an entertainment quotient to the festival. Award winning documentaries will be screened. With live performances, the sound of music will also resonate at the festival.
The festival is our endeavour to bring forth the lutf of languages – English, Awadhi, Urdu and Hindi on a common platform. As an annual event, we hope to see it grow into a melting pot of idea's and cultures where litterateurs come share and enjoy in the city of ada, andaaz and adab.